A global pandemic certainly underscores the necessity of a digital-first strategy. Demand for affordable, quick, and safe access to care and information grew at an astronomical rate in 2020. As we strengthened our technological foundation, we continue to shape the digital future that will make healthcare more predictive, proactive, and personalized. Pioneering tomorrow's healthcare, we are evolving from a traditional health benefits company to a digitally-enabled platform for health.
Becoming a platform company
"Seven of the 10 most valuable companies in the world today are platform businesses that have effectively digitized supply and demand," shares Rajeev Ronanki, Anthem's Chief Digital Officer. "At Anthem, we have built the industry's largest platform, integrating our immense data assets, proprietary AI, and machine-learning algorithms." 

"It's through this platform that we are able to digitize knowledge and create a more agile and seamless experience for our consumers, customers, provider partners, and communities," Rajeev adds.

Our platform approach is already having an impact: We've virtualized delivery of care, without needing to acquire expensive brick-and-mortar care delivery infrastructure. We are able to predict demand for care and connect people to the right care, at the right time – seamlessly blending digital, virtual, and physical care. And we are able to continually optimize supply and demand using our AI and machine-learning capabilities to identify individual health needs that will drive overall health improvement impact at the community level.
‍
Providing life-changing support
With our robust data foundation, we were able to quickly mobilize and develop tailored tools at the outset of the pandemic. "Within days of the first COVID-19 cases in our nation, we gathered as a team, with a focus on rapidly delivering digital support and comfort to all consumers in a time of need," said John Utz, Staff Vice President Exponential Technologies at Anthem.
‍
The Sydney Care app was a tool we had already developed and designed to deliver an end-to-end virtual care experience. Having laid the groundwork, we added functionality to address urgent needs. We immediately incorporated capabilities like a COVID-19 symptom checker, helped consumers connect to a doctor virtually, and located local testing sites for users, a solution that some of our customers have called "life changing." "Helping consumers identify and diagnose issues in the comfort of their own home was what the times demanded," Utz said.
‍
At no cost to the user, the coronavirus assessment tool uses risk evaluation technologies based on CDC guidelines that help consumers quickly and safely evaluate symptoms. Once they connect with healthcare providers, through text or video visits, providers can recommend treatment options and if needed, consumers can locate the nearest testing site using the app's site locator tool.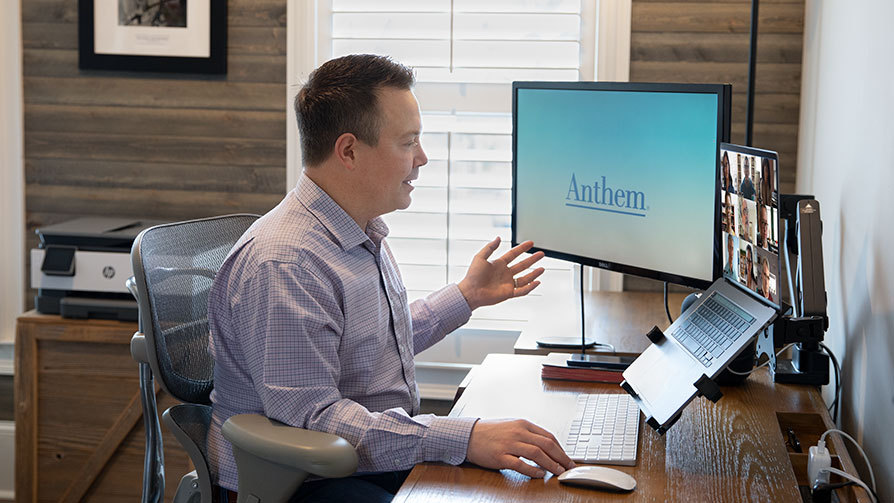 Sydney Care app:
40K+
COVID-19 assessments
Creating data-driven insights to spur meaningful action
Providing people and organizations with tools and support to meet their health needs has always been central to Anthem's mission. To help public health officials, government partners and employers mobilize quickly to address the pandemic, we launched C19 Explorer and C19 Navigator. Aggregating COVID-19 data, the tools include intuitive, interactive dashboards that provide insights and help inform everything from return-to-workplace decisions to resource planning.
‍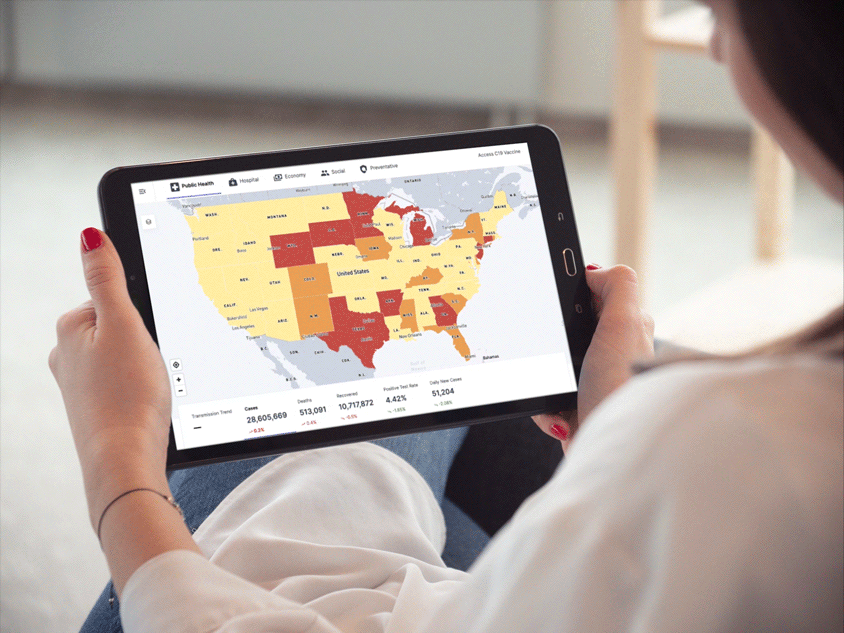 "Many of our customers and members of the public health community have used these tools to make critical decisions and plan effectively and efficiently," says Bobby Samuel, Anthem's Vice President of AI Technology.

Designed in collaboration with technology and design experts CloudMedx and TM, the dashboards provide such insights as infection rates and community risk scores, both current and predictive, by drawing on data from 4,000 hospitals around the country, as well as public and private information from federal, state, and county entities.
Providing simpler experiences for consumers and caregivers
Beyond broad public health issues, our digital-first approach is accelerating the path to a simplified consumer experience, including how consumers access healthcare information.

The introduction of Anthem Skill for consumers of our commercial medical and dental health plans is one example. Through an Alexa-enabled device, like an Amazon Echo or the Alexa app, Anthem Skill is a 24/7, voice-activated way for consumers to access plan benefit information and take action on a range of health plan matters, such as refilling prescriptions, finding out their HSA balance, reviewing their progress toward their plan's deductible, and even looking up definitions of more than 200 healthcare terms, among others. Anthem is one of the first health plans to provide specific health plan information through a virtual assistant, and we will continue to enhance its functionality. 

In 2020, nearly 3,000 Anthem commercial plan members accessed Anthem Skill with more than 8,000 questions.
5 years ago, less than 1% of our interactions were digital, compared to 65% in 2020.
"We are constantly challenging ourselves to enhance and simplify the entire digital healthcare experience for our consumers – from web to mobile to digital messaging and now voice," said Anil Bhatt, Anthem's Chief Technology Officer. "With this new advanced engagement channel, consumers have more access to healthcare information when and where they need it."